T
here are always new and upcoming products that, as a healthy eater, we love to find. One of my biggest weaknesses is ice cream. I will adore the inventor of an "all you can eat" ice cream with flavor & fullness combined with ZERO calories forever... so if you're him/her please let me know... and send me some samples! LOL But until then, for me... finding an amazing, full flavored ice cream that's low in fat & calories is a mission I take on for all of us living a more healthy lifestyle. I'll put on my best "ice cream" face and figure it all out for you.... you can thank me later with a HUGE bowl of ... well... ice cream?
T
oday I happen
ed upon a new Fit & Active
®
ice cream sandwich at Aldis. Nutritional info on them is 130 cal./ 1.5g fat / 2g fiber, bringing them in at 2 points a treat. Very comparable to the Skinny Cow
®
competitors but at a fraction of the price! I'm going to be honest here, there's never too many "low fat, lower calorie" options in ice cream so Skinny Cow
®
shouldn't fret that they'll be run out of town. They simply will share the shelves in MY freezer!
T
he newest flavors offered of the Fit & Active
®
ice cream sandwiches was
"Strawberry Shortcake"
(2) and
"Orange Cream"
. Unfortunately for me, the only package of "Orange Cream" they had left in the freezer had been thawed, refrozen, thawed again, mixed and slightly re-frozen by the time I got to it. Hopefully they will have them available again soon! If they orange tastes anything like the strawberry I will be in heaven!
S
o it's definitely a 2 thumbs up and double tummy rub vote for these delightful ice cream treats! If you're looking for affordable, healthy & delicious... the Fit & Active
®
ice cream sandwiches are a definite must on your next shopping list!
T
he line of products that Aldis now offers in the Fit & Active
®
brand is simply amazing. Take a look for yourself,
here
!
O
ther faves of mine in this healthy, affordable category is the their
tu
rkey bacon
, weighing in with Nutritional values of 30 cal/2.5g fat/ 0 fiber per slice. It's a wonderful addition to a low fat burger, a grilled chicken breast or any dish that a little "bacon" can only add even MORE flavor! I'm a bit of a bacon lover myself so I definitely enjoy a touch of this smokey goodness in many of my dishes or sandwi
ches! And speaking of "burgers" they offer a Fit & Active, lower fat ground burger & ground turkey to help create that wonderful "off the grill" treat!
I
'm a
HUGE
fan of the Fit & Active
®
treats too. Some awesome, and again inexpensive, options Aldi's is carrying are the
Caramel Rice Snacks
, their delicious
cereal bars
and most all of their ice cream products (especially their fudgsicles & ice cream sandwiches)
. Most every "snack" product they offer comes in around 2 points so they're a great option for a reasonable price. It's not always expensive to "eat healthy".. you just have to search in the right places for the right products!
* As with all recipes points
®
/calories/fats will vary according to
ingredients so please be sure to figure your own nutritional information out according to the packages & information of th
e products you use.
Help me win this great recognition!
Vote now if you like my blog! Thanks!
Check out my

Daily Menu Food Log for a quick glance at what I'm eating to get where I'm at, which is a healthier & therefore thinner ME!
Don't forget to check out my newest
Book Blog
, where I give book reviews on recent books I've read. If you're a reader you'll want to check this out!
WE CAN DO THIS, TOGETHER
ONE DAY AT A TIME!

Like this article? Twit it to your followers!
Who Else Helps me get healthy?
These are just a few of the people online that inspire me....
1.
Check out the Fab Fatties
2.
Joe Gigantino - Fitness Trainer
This is the guy that really set me on the path to physical fitness
3.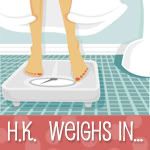 4.
BWJEN
5

.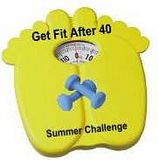 5

.
6.Sean Anderson the formerly 500lb man!
Diary of A Winning Loser
*Note I am not affiliated nor endorsed by Weight Watchers® at all, in any way. I highly recommend their program and cannot say enough GOOD about it, but I also have decided that they were my "stepping stone" to making a change in my lifestyle. Any mention of Weight Watchers®, their program or their term of "points®" does not mean they have approved, seen, or endorsed anything on my blogs.
Also, if at any time Points® are mentioned it is always with the assumption that you will analyze the recipes, foods, ingredients and figure the points out specifically for your consumption of any product, as ingredients may vary by brand, size, etc.