T
his is one of the easiest "cakes" or desserts you can make. I love to take this to picnics because people instantly assume it's NOT a healthy treat because "how can cake be healthy?" and it's cut into 12 large pieces. Add the Cool Whip topping on top & they'll never guess it's not loaded with fat & calories!
Y
ou can click on the underlined "ingredients" to order them online (I don't get any profits from this, just trying to help you find the ingredients easier)
makes 12 bars in a 9x13 pan

1 box of angel food cake mix
1 20 oz. can
No Sugar Added Comstock Pie Filling
(

I prefer apple

but apple & cherry both have same nutritional info & therefore there is no point difference)
Mix the two above ingredients together and pour into a 9 x 13 pan.

Do not spray pan with any cooking/baking spray.
Bake according to angel food cake package directions.
Let cool and add fat free cool whip on top (cool whip does add points)
(use any flavor of pie mix you want but be sure to adjust points/nutritional info if you do)
*Notes:
Some things I've done to give this recipe a little
"twist"
- using the same basic recipe above...
Candied Apple Angel Bars
The last 5 minutes of baking, place crushed candy canes on top to bake in on the top. I prefer to find the cinnamon flavored ones (get them after the holidays, they're cheaper!). Generally 2 or 3 candy canes crushed fine, sprinkled on top add a touch of "holiday" glimmer & a little cinnamon flavoring to the apple taste. You can use sugar free candy canes if you can find them but the standard ones don't add enough calories, etc. to change the points.
Caramel Apple Angel Bars
After cake is completely baked, drizzle sugar free, fat free caramel ice cream topping on top, just a touch. Gives a "caramel apple" flavor & when used sparingly no extra points are added. Be sure it's the Sugar Free version though or the points do change!
Don't forget to check out my newest
Book Blog
, where I give book reviews on recent books I've read. If you're a reader you'll want to check this out!
WE CAN DO THIS, TOGETHER
ONE DAY AT A TIME!

Like this article? Twit it to your followers!
Who Else Helps me get healthy?
These are just a few....
1.
2.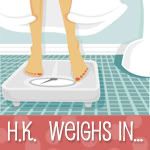 3.
BWJEN
4.
FabFatties
5

.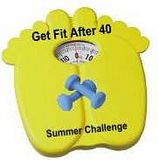 6

.
7.Sean Anderson the formerly 500lb man!
Diary of A Winning Loser