T
he other day I had the biggest craving for French Toast. Unfortunately I caved in to my craving at the wrong time and in the wrong way, I had a 4th meal at 2am with my daughter at Perkins Restaurant. I decided I'd been dying for some french toast so got the "small stack" (3 pcs) as opposed to the regular sized (kudos to me for making at least that better choice)but either way I knew it was high in points and at the wrong time.
N
o biggie, bad decision but good decision in the case of I chose less than I would have ever chosen before and I got my fix on & moved on. I never got fat by eating 3 pieces of French Toast and I knew I wasn't going to gain back every pound I had lost.
S
o I began to search through my recipes and found one that I'm definitely going to be making when I get one of those "French Toast Cravings" again! LOL I've made this before and it rocks. I do add the FF cream cheese for a "stuffed" French Toast, so make sure you add the points for that. I generally use 1/2 pkg, divided by 6 servings & I add a point per serving. Don't forget, this is made the night before you bake it, as it sits in the fridge overnight. Makes it easier to get things made and into the fridge, ready for baking in the morning & no messing around. I kind of like that, as I'm not a morning person!
FRENCH TOAST CASSEROLE
(2)
Serves 6
Ingredients:
10 slices light bread
1 1/2 cups skim milk
1 cup egg beaters
2 1/2 T. firmly packed Splenda brown sugar blend
1 tsp. vanilla
1 tsp. ground cinnamon
1. Coat a 2 quart casserole with cooking spray. Arrange 5 slices of bread in bottom of dish. (I use an 8x8 or 9x13 pan)
2. Combine all remaining ingredients and mix well with mixer or whisk. Pour half the batter over the bread. Layer the remaining bread on top and cover with remaining egg mixture. Cover tightly with foil and
refrigerate overnight
.
3.In the morning, preheat oven to 375 degrees. Remove foil and lightly spray the top with cooking spray. Bake 30 to 35 minutes or until browned.
Serves 6
NI per serving: 142.6 calories, 1g fat, 4.16g fiber
*add 1 pkg of FF cream cheese in between layers of bread for a "stuffed" french toast but remember to add the points for this ingredient!
Don't forget to check out my newest
Book Blog
, where I give book reviews on recent books I've read. If you're a reader you'll want to check this out!
WE CAN DO THIS, TOGETHER
ONE DAY AT A TIME!

Like this article? Twit it to your followers!
Who Else Helps me get healthy?
1.
2.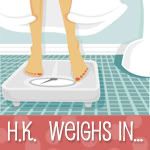 3.
BWJEN
4.
FabFatties
5.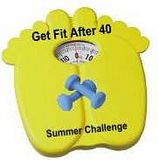 6.
7.Sean Anderson the formerly 500lb man!
Diary of A Winning Loser