O
ne of my absolute
FAVORITE
"comfort" foods has got to be homemade mac 'n cheese. If there's anything that just screams, warm, cuddly, dinner in front of the tv on a snowy Sunday afternoon it has to be that! Of course, the "real deal" is also loaded with "the real calories, fat and points
®
" so, while I do treat myself to it once in a while... it's definitely not a regular on my list of dinners I prepare for my troops.
T
hen I happened upon an old
Cooking Light Magazine
from 2006 that my mom had given me. Deciding to "clean house" a bit with all these nonsense items like 3 year old magazines... I thought "let me take a quick look & see what's worth keeping". End result was a great job of de-cluttering at least ONE spot in my bedroom while finding an AMAZING recipe I simply had to share! I've made my own "changes", doubled the recipe & changed some ingredient amounts but for the most part it's pretty close to their original recipe. My notations that make any difference or change anything to the degree of needing to be mentioned are listed & notated
(see r
ed notations)
but I did, however, keep the original nutritional information with the original ingredients.
"MY VERSION"
, I would guess, is no more than perhaps 1 point lower (1 1/2 if you used the fat free cream cheese I think) but I've never truly taken the time & effort to figure it out for sure so I leave the "numbers" for those of you attempting it for the first time, along with the original ingredients listed, for you to decide. Should you decide to change up ingredients from
Cooking Light's
recipe, as I did, adjust your nutritional information accordingly to be assured of correct "point
®
" counting. To me, I guesstimate it at a point
®
less than their original 6 point
®
version (simply due to the difference in the pasta I choose) & know that the ingredients I use are slightly "better for me" anyways, but it is listed both point wise and nutritional count wise exactly as the original recipe. When I make it my way (with the red) I count it as 5 points
®
per serving, but "my" points are NOT figured out by Weight Watchers
®
or any of their recipe builder/point figuring programs!
S
o enjoy....
Creamy Stove-Top Macaro
ni and Cheese
(6)
Serves 12
- Serving Size 1 1/2 Cups
Ingredients:
8 cups uncooked medium elbow macaroni
(I use the Ronzoni "Smart Taste" brand pastas which come out to be 1 point
®
less per serving than standard macaroni per Laa Loosh - see article in link for pasta above)
6 tablespoons all-purpose flour

1 1/2 teaspoon salt

1/2 teaspoon black pepper
4 1/2 cups fat-free milk
1/2 cup (4 ounces) 1/3-less-fat cream cheese, softened
(I originally used the fat free cream cheese but to be honest, the little bit of extra fat gives it slightly more creaminess & there's a not a huge "point" factor in switching over for just 1/2 Cup, so you can use either - depending upon what you have handy)
4 teaspoons Dijon mustard
4 teaspoons Worcestershire sauce
1/2 teaspoon bottled minced garlic
1/4 teaspoon onion powder
(original recipe did not call for onion powder but I think this makes it more "authentic" tasting)
2 1/2 cups (10 ounces) shredded reduced-fat cheddar cheese
Cook pasta according to package directions, omitting any salt and/or fat (oils). Drain, rinse and set aside.
I cook my pasta in a huge dutch oven style pot, using this same pot throughout the entire recipe, including to "brown" the top in the oven later.
While pasta cooks, place flour, salt, and pepper in a large saucepan. Add milk, stirring with a whisk until well blended. Drop cream cheese by teaspoonfuls into milk mixture; bring to a boil over medium-high heat, stirring constantly. Reduce heat; simmer 2 minutes or until thick and cream cheese melts, stirring occasionally. Stir in mustard, Worcestershire, and garlic; simmer 1 minute. Remove from heat. Add cheddar cheese, stirring until cheese melts. Combine pasta and cheese sauce in a large bowl; toss well.
I bake in the oven under the "broiler" to top/brown the top of the mac'n cheese because the crispy part is my favorite. I do not, however, add any cracker crumbs/butter, etc. on top to get the crispiness... saving any added calories & fat.
Yield: 12 servings (serving size: 1 1/2 cups) <-- YES, that's 1 1/2 CUPS per serving! Enough to TRULY feel like a "serving"! Add a big ol' tossed salad, some fat free dressing & a piece of my favorite 1 pt.
Crustless Pumpkin Pie
and you have one AMAZING dinner for well under 10 pts!
NUTRITIONAL INFORMATION PER SERVING:
CALORIES 252 FAT 8.2g FIBER 1.1g
*Original Recipe from
Cooking Light Magazine, JUNE 2006
-
Modified by Bev P.
Help me win this great recognition!
Vote now if you like my blog! Thanks!


Check out my

Daily Menu Food Log for a quick glance at what I'm eating to get where I'm at, which is a healthier & therefore thinner ME!
Don't forget to check out my newest
Book Blog
, where I give book reviews on recent books I've read. If you're a reader you'll want to check this out!
WE CAN DO THIS, TOGETHER
ONE DAY AT A TIME!

Like this article? Twit it to your followers!
Who Else Helps me get healthy?
These are just a few of the people online that inspire me....
1.
Check out the Fab Fatties
2.
Joe Gigantino - Fitness Trainer
This is the guy that really set me on the path to physical fitness
3.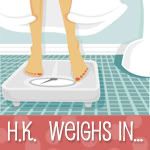 4.
BWJEN
5

.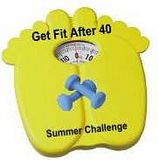 5

.
6.Sean Anderson the formerly 500lb man!
Diary of A Winning Loser
*Note I am not affiliated nor endorsed by Weight Watchers® at all, in any way. I highly recommend their program and cannot say enough GOOD about it, but I also have decided that they were my "stepping stone" to making a change in my lifestyle. Any mention of Weight Watchers®, their program or their term of "points®" does not mean they have approved, seen, or endorsed anything on my blogs.
Also, if at any time Points® are mentioned it is always with the assumption that you will analyze the recipes, foods, ingredients and figure the points out specifically for your consumption of any product, as ingredients may vary by brand, size, etc.