Definition according to
Dictionary.Com
:
Satiated

: n. The condition of being full or gratified beyond the point of sat
isfaction; surfeit.
O
ne of the key ways to
"Stay On Track"
when trying to lose weight is by keeping
satiated
. Feeling satisfied, both mind & body, is a definite way of making sure you keep on track with your eating.
T
he best way I've found to do this was with the help of my weight loss coach, Yvette. She suggested that, especially now that I was "working out" on a regular basis, I make sure I get something in me every 3 hours or so. At first I thought, "great idea but how realistic is that with a busy schedule?" but then I realized it's not only realistic it's simply common sense! Nutrition or Snack Bars were my answer!
S
atiation leads to the body feeling satisfied, full & denies it the need to "cravings". This plays a part in may areas of our life, as well as eating. If you feel satisfied in your love life, you don't stray (I'm not talking only sex here, but truly in "love"); hence, why people with full relationships in every avenue - not just sexual - seem to have happy & long lasting relationships. Feeling satisfied in your life choices in general, makes each of those areas complete. If you're satisfied in your mind, your body follows. Again, it's common sense.. but how often do we seem to ignore simple common sense? For me, it's often!
M
y latest "mission" in my weight loss travels has been to make certain I'm feeling "satiated". This occurs when I make sure I have some intake every 3 hours or so. This can lead to overeating if you don't take heed to what is being put in your mouth, so making smart choices is a must. It can also lead to choosing "too little", leading to the satiety not sticking with you long enough & causing a sudden onset of "need"... meaning a real good chance you're going to turn into that quick fix "drive thru" place & making a wrong choice! I found that in the beginning, my choices often fell in the latter category of "too little", basically because I was concerned about the "Weight Watcher" side of my eating and leaning towards "fewer points". That was something I had to learn to change & it was not easy, I will tell you that up front. We WW'ers are quick to get excited over 1 and 2 point choices, while shying away from anything much higher for fear of "running out of points". Take it from me, if you are choosing right 3 and 4 point choices for snacks will leave you feeling much fuller & satisfied, leaving a lot less chance of 2 hours later rushing a McDonalds & ordering a side of cow! (Pssst.. I still have suspicions there is no "cow" available at McD's but call that my own hunch! LOL)
So how do you make the better choices for small meals or snacks throughout the day?
F
irst off, learn what's out there. Take the time to shop, I know we all are so busy we don't really have that time but truly, you are SO worth it. I started at GNC. Yes, overpriced, but a quick 1-stop kind of place that tends to carry a bunch of different "bars" to much on.
S
econd, and most anyone who's health conscious knows this already, take the time to read the labels. While it may sound like it's a great choice because it's "Healthy" or "Low Cal", etc. the Nutrition Label doesn't lie. I personally keep the calories at 200 or less (venturing mostly towards the 150 area) and obviously the fats as low as possible, with fiber being at NO less than 3g. These general rules will keep your "bars" at 3-4 points and definitely keep it easy to stay within points if you're sticking to the WW Plan.
T
hird, ask others what they've tried. Read blogs, talk to friends, ask the sales lady. Hearing how things taste before putting out nearly $2 or even more for a single bar can help save you a lot of money. There is nothing worse than thinking you're going to love something only to find out it's SO not your style. Of course, if you don't THIS is where I come in! And a few other blogs I've seen out there! I WILL add to this page often, as I try various new bars/snacks & also as I find more on other blogs.
H
ere are few of my favorite bars/snacks that help keep you satiated throughout the day. I've included links & nutritional information when possible. I provided the links to various suppliers, not for you to necessarily purchase but to see the item and the information provided. Many of the links will also end up showing a "sale" on the items (a definite plus) but I don't get a single cent from sending you to these links so please do not think I'm "SELLING" things here. The Links are a simple way to give you a look at the product.
A
s always, check the package yourself to be sure what YOU are purchasing matches the N.I. I'm sharing, as there are variations & products sometimes do change.These are NOT in any particular order, but they are rated on a
5 Star System
*****
with 5 Stars being
GREAT
, 1 Star being
GOOD
but not something I rush to buy! Feel free to mention what YOU love to snack on in between meals too!
Bar/Snack

Rating 1-5 Stars (5 Stars being Best)

Nutritional Information
(per bar/serving)

Where Have I found these available & approximate prices I've paid

Comments

Luna - Caramel Nut Brownie


***** 5

180 cal / 6g fat / 4g Fiber / 8g Protein

WalMart - box of 6 for $5.97

Inexpensive & very delicious. They also travel well, so are great to toss in a purse or gym bag. These are probably one of my favorite bars/snacks.

Muscle Milk Light Bar - Vanilla Toffee Crunch
****4

160 cal / 5g fat / 4g Fiber / 15g Protein


GNC, Wegman's Food, Walmart (on average $1.79 - $1.99/bar) *GNC often runs specials on these - buy 1 get 1 free (by the case)

I love these & love that they are lower in calories; therefore points. My son dislikes them and swears they taste like "sour milk" to him. They are NOT a milk product, lactose free.

****4

170 Cal / 6g fat / 4g Fiber / 15g Protein

GNC, Wegman's Food, Walmart, most health food stores (on average $1.79 - $1.99/bar) *GNC often runs specials on these - buy 1 get 1 free (by the case)

See above - this one I love when I need a chocolate fix too!

EAS - Myoplex Lite Bars - Peanut Caramel Crisp
*****5

190 Cal / 6g Fat / 7g Fiber / 15g Protein

GNC, Wegman's, Walmart ($2.00 on average/bar)

These are another one of my faves. Make sure you grab the LITE bars, the others are quite a bit higher in calories & meant for those who need to bulk up. They remind me of a combination rice crispy bar, granola bar type of snack. Again, these hold up well in a gym bag/purse so they're a great option to take along!

GNC Pro Performance ProCrunch Lite Chocolate Crisp
***3

140 Cal / 4g Fat /2g Fiber / 12g Protein

GNC ($1.59 - $1.75 or so)

These are too low in fiber for me to get too excited about. The taste is acceptable, not great. They're a little "cheaper", at least in the GNC stores (obviously because it's their brand) but all in all they're not something I crave. They do provide a good chocolate punch though.

Luna Sunrise "Morning Nutrition for Women" Bars (Apple Cinnamon)

4****1/2

180 Cal/ 5g Fat / 5g Fiber / 8g Protein

Wegmans (sale for a case of 15 $6.49) - Avg. price $0.99 ea.

I'm not a huge fan of "white chocolate" but this was amazing! I'm surprised at how much I liked it! The flavor, very intense & fall like. This seriously bordered a 5 star. WHY it's geared towards "women" & morning is beyond me but I will be using this one any time I need a pick me up or to stay on track & not binge!

Help me win this great recognition!
Vote now if you like my blog! Thanks!
Check out my

Daily Menu Food Log for a quick glance at what I'm eating to get where I'm at, which is a healthier & therefore thinner ME!
Don't forget to check out my newest
Book Blog
, where I give book reviews on recent books I've read. If you're a reader you'll want to check this out!
WE CAN DO THIS, TOGETHER
ONE DAY AT A TIME!

Like this article? Twit it to your followers!
Who Else Helps me get healthy?
These are just a few of the people online that inspire me....
1.
Check out the Fab Fatties
2.
Joe Gigantino - Fitness Trainer
This is the guy that really set me on the path to physical fitness
3.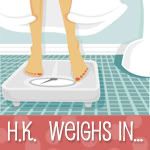 4.
BWJEN
5

.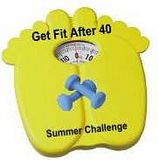 5

.
6.Sean Anderson the formerly 500lb man!
Diary of A Winning Loser
*Note I am not affiliated nor endorsed by Weight Watchers® at all, in any way. I highly recommend their program and cannot say enough GOOD about it, but I also have decided that they were my "stepping stone" to making a change in my lifestyle. Any mention of Weight Watchers®, their program or their term of "points®" does not mean they have approved, seen, or endorsed anything on my blogs.
Also, if at any time Points® are mentioned it is always with the assumption that you will analyze the recipes, foods, ingredients and figure the points out specifically for your consumption of any product, as ingredients may vary by brand, size, etc.