T
oday's creation came from the desire to have a much loved "junk food" that's common to the Erie area - Grilled Chicken or Steak Salad. Now you have to understand, the term "junk food" applies because generally, around here, they create this amazing, delicious one bowl dinner using less than "healthy" ingredients! I've, of course, RE-created the typical fry laden, cheese smothered dish to taste just as good but with a lot less fat & calories!

A

lexia
®
Fries are my savior when it comes to having a wonderfully healthy alternative!
They ARE french fries... just not "fried" & definitely not full of fat & calories! Each serving of
Alexia Fries almost always comes out to about 3 points
®
per serving, be sure to check their label to make sure! Serving sizes are very generous too! Today's recipe I used the Yukon Gold Julienne Sliced Fries.

Asian Grilled Chicken Salad
(8)
Ingredients:
1 Tbls. Sweet 'n Sour Sauce (check label find lowest points available - I used Wegman's @ 1pt./Tbls)

<1>



1 boneless, skinless frozen chicken breast

<3>



bagged salad mix

<0>



24 French Fries

(Recipe is created/counted using Alexia Yukon Gold's which are SO very low in points & awesomely delish)

<3>



1/4 Cup Fat Free Shredded Cheddar

<1>



Fat Free Dressing of Choice (I used Wegman's Fat Free Roasted Red Pepper)

<0>



*Optional veggies you like in your salad
Fresh Ground Black Pepper & Fresh Ground Sea Salt

Bake Alexia Yukon Gold Julienne Style Fries in oven (takes 20-25 minutes)
Grill chicken breast on grill ( I use the "Big George"), add 1 Tbls. sweet 'n sour sauce at end to flavor it.
Chop chicken breast into bite sized pieces.
Place chicken, fries, cheddar cheese on top of bed of lettuce (I use the prepackaged salad mixes for speed & ease)
Top with dressing of your choice. (Fat Free)
Add any additional veggies you like
(suggestions: onion, tomatoes, cucumbers)
Top with freshly ground black pepper & sea salt.
* As with all recipes points
®
/calories/fats will vary according to ingredients so please be sure to figure your own nutritional information out according to the packages & information of the products you use.
Check out my

Daily Menu Food Log for a quick glance at what I'm eating to get where I'm at, which is a healthier & therefore thinner ME!
Don't forget to check out my newest
Book Blog
, where I give book reviews on recent books I've read. If you're a reader you'll want to check this out!
WE CAN DO THIS, TOGETHER
ONE DAY AT A TIME!

Like this article? Twit it to your followers!
Who Else Helps me get healthy?
These are just a few of the people online that inspire me....
1.
Check out the Fab Fatties Challenge #3 while you are there!
2.
Joe Gigantino - Fitness Trainer
This is the guy that really set me on the path to physical fitness
3.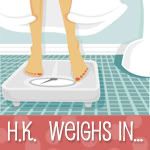 4.
BWJEN
5

.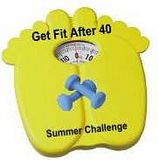 5

.
6.Sean Anderson the formerly 500lb man!
Diary of A Winning Loser
*Note I am not affiliated nor endorsed by Weight Watchers® at all, in any way. I highly recommend their program and cannot say enough GOOD about it, but I also have decided that they were my "stepping stone" to making a change in my lifestyle. Any mention of Weight Watchers®, their program or their term of "points®" does not mean they have approved, seen, or endorsed anything on my blogs.
Also, if at any time Points® are mentioned it is always with the assumption that you will analyze the recipes, foods, ingredients and figure the points out specifically for your consumption of any product, as ingredients may vary by brand, size, etc.