S
ometimes you simply have to put your points into the flavor and texture of one main ingredient to get best results. This is a case where you can afford to put those "big points" into a splurge of bread because the fillings & insides of what creates this delicious sandwich is virtually pointless!
(In a good way)
I
first found this delightful creation at a friends local Coffee Shop/Cafe located at the mouth of Presque Isle, here on Lake Erie.
Presque Isle Gallery C
offeehouse
(click the name to get to their site)
offered up this delicious treat which sounded very "point
®
friendly" to the Weight Watcher
®
side of me! After figuring out about what the points would be I decided I could definitely eat their version, within reason, and could make my own slightly even less fat/calorie version at home. PIG (as it's often referred to) makes their OWN bruschetta also, making the filling absolutely DIVINE! I personally am not that energetic and purchase mine at the local Wegman's Olive Bar, but it works out fine that way too! I guesstimated the PIG version of this delightful treat come in around 8-9 Points
®
but you can easily trim those down by using fat free versions of cheeses & even, slightly thinner sliced breads that come in at under 1 oz. each if needed. I personally don't mind using the points in a full 1 oz. slice of the sourdough bread as the fillings keep the sandwich coming in fairly well still. Of course, using a low cal/diet bread would really bring the points down at 1 pt for the bread alone as opposed to 4 pts for the full version of sourdough but it will also change the flavor/texture. So it all depends upon what you're willing to give up or add on! Make it your own though!
Bruschetta Panini on Sourdough Bread (6)
2 slices sourdough bread
(This is where the points are in the entire recipe but SO worth it! Nutritional info on the sourdough bread should go according to your package but the average/general information is
here
.
)
(4)
4 Tbls. Bruschetta
(At
30 calories per 2 Tbls.
it's a cheap date!)
(1)
1/4 cup shredded fat free mozzarella cheese
(1)
Olive Oil Spray
(for panini grill or pan)
(0)
Building the Sandwich:
Simply spray your pan/grill with olive oil before starting. Then place one slice of sourdough bread on grill, top with bruschetta & spread evenly across bread. Spraying the pan, as opposed to pouring oils on top of the bread itself saves points
®
, calories & definitely makes the sandwich less "greasy" in the end.
Add fat free mozzarella on top & place 2nd slice of bread on top of that.
Now grill using method(s) below.
Method of cooking:
If you have a panini grill, that's great but a "Foreman Style" grill can work just as well, and even a plan ol' fry pan can work. The trick with a panini is to grill the bread to a nice crispness while applying some pressure so if you're using the fry pan method, simply use a smaller frypan to push down on the top of the sandwich as you grill. You will also have to "flip" the sandwich when using this method of grilling your panini.
* As with all recipes points
®
/calories/fats will vary according to ingredients so please be sure to figure your own nutritional information out according to the packages & information of the products you use.
Help me win this great recognition!
Vote now if you like my blog! Thanks!
Check out my

Daily Menu Food Log for a quick glance at what I'm eating to get where I'm at, which is a healthier & therefore thinner ME!
Don't forget to check out my newest
Book Blog
, where I give book reviews on recent books I've read. If you're a reader you'll want to check this out!
WE CAN DO THIS, TOGETHER
ONE DAY AT A TIME!

Like this article? Twit it to your followers!
Who Else Helps me get healthy?
These are just a few of the people online that inspire me....
1.
Check out the Fab Fatties
2.
Joe Gigantino - Fitness Trainer
This is the guy that really set me on the path to physical fitness
3.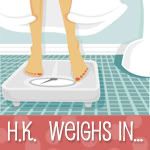 4.
BWJEN
5

.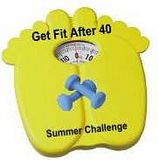 5

.
6.Sean Anderson the formerly 500lb man!
Diary of A Winning Loser
*Note I am not affiliated nor endorsed by Weight Watchers® at all, in any way. I highly recommend their program and cannot say enough GOOD about it, but I also have decided that they were my "stepping stone" to making a change in my lifestyle. Any mention of Weight Watchers®, their program or their term of "points®" does not mean they have approved, seen, or endorsed anything on my blogs.
Also, if at any time Points® are mentioned it is always with the assumption that you will analyze the recipes, foods, ingredients and figure the points out specifically for your consumption of any product, as ingredients may vary by brand, size, etc.