I
can't find enough "easy" recipes in my life. Can anyone? I'll be honest, I'm not a hectic lifestyle type of person. I've been lucky enough to have cancer kick my ass for a reason.. .to slow me down & force me to enjoy life, so I'll be damned if I want to spend it all sweating in a kitchen. One of my tricks to being "prepared" for snack cravings or quick fix breakfast needs, etc. is to whip up batches whenever I get a chance & storing it (freezing, etc.) for later use. It can be a life saver!
B
reakfasts for me are not an easy meal. I'm not a big morning eater but I realize the importance of jump starting my body to let it know it's "Wake Up Time" and start metabolizing everything I put in. For this reason alone, I love quick & easy breakfast foods like muffins & breakfast sandwiches. Of course, making batches ahead is always a plus!
H
ere's one of my most favorite muffin recipes. While the original called for some much higher fat items, I did toss around some ideas & make some changes that resulted in a much lower in point, calorie & fat content without losing the flavor & texture. I've attempted the recipe with Splenda
®
Brown Sugar but personally, it doesn't cut the points enough to take away the texture & flavor that the real stuff adds. To me, it's not worth it.
Ingredients


2 cups whole wheat flour


1 tsp baking soda
1 tsp ground cinnamon



1/2 tsp table salt


1/2 cup Natural Unsweetened Apple Sauce


1/4 cup canola oil


1/2 cup honey


1/3 cup unpacked brown sugar


2 1/3 cups banana(s), mashed
Directions
Pre-heat oven to 350F degrees. Spray muffin pans.
In a large bowl, combine flour, baking soda, cinnamon and salt. In a separate bowl mix wet ingredients. Stir in bananas. Stir banana mixture into flour mixture, stir just until moistened. Scoop batter into muffin pans.
Bake for about 25 minutes and then check every five minutes until toothpick comes out clean. Depending on your oven the bake time goes between 25 & 28 minutes on average.
Help me win this great recognition!
Vote now if you like my blog! Thanks!
Check out my

Daily Menu Food Log for a quick glance at what I'm eating to get where I'm at, which is a healthier & therefore thinner ME!
Don't forget to check out my newest
Book Blog
, where I give book reviews on recent books I've read. If you're a reader you'll want to check this out!
WE CAN DO THIS, TOGETHER
ONE DAY AT A TIME!

Like this article? Twit it to your followers!
Who Else Helps me get healthy?
These are just a few of the people online that inspire me....
1.
Check out the Fab Fatties
2.
Joe Gigantino - Fitness Trainer
This is the guy that really set me on the path to physical fitness
3.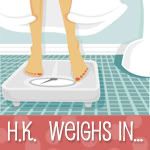 4.
BWJEN
5

.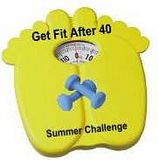 5

.
6.Sean Anderson the formerly 500lb man!
Diary of A Winning Loser
*Note I am not affiliated nor endorsed by Weight Watchers® at all, in any way. I highly recommend their program and cannot say enough GOOD about it, but I also have decided that they were my "stepping stone" to making a change in my lifestyle. Any mention of Weight Watchers®, their program or their term of "points®" does not mean they have approved, seen, or endorsed anything on my blogs.
Also, if at any time Points® are mentioned it is always with the assumption that you will analyze the recipes, foods, ingredients and figure the points out specifically for your consumption of any product, as ingredients may vary by brand, size, etc.