A
s most "fat" people, pictures of me are hard to find. Why? Well the obvious... I'm huge in them. Of course my whole fat life I've used the excuse "I'm not photogenic" or "That outfit made me look so fat", or on and on.... but so many have asked me for pics... so here's some. Let m
e tell you I would have NEVER done this before!!!!!!! LOL
N
ow that I'm 58+ lbs lighter.... I'm far from the size I want to be, but I'm so proud of where I've come to, that I post these pics with pleasure! Ok, a little cringing too!
T
he picture on the right is me in 2006. By this point I had been battling cancer 3x I believe, blown up on every drug imaginable & really didn't care at all if my body liked what I did. I ate to get rid of pain, I ate to get rid of issues, I ate to just eat. The great part is, those clothes are like tents on me now! And yes, I still have them because sometimes, at this point I have to have SOMETHING to wear & I'm not buying more fat clothes until I MUST. I'll spend all MY money on "skinny" clothes so to speak! LOL
N
ext is me, close to my heaviest weight ... this was actually about 2 months into starting to lose, but i don't know the weight. I was about 8-10 lbs lighter in this picture than my heaviest weight. Tipping those scales at 300+ I was on the path to self destruction. Not to mention, I had more chins than a Chinese phone book eh?! And don't I look sooooooo happy to have my picture taken? Welcome to the life of a fat girl! I run from the camera! LOL Oh well!
T
his was April 2009. I can't even imagine going back to that!
A
mere 4 months later and I can see the difference. I've got
a long road to haul but I look and feel so much better now that I'm in charge of
ME
! At least you can see the lack of chins.. lol. I jest, but a lot of that laughter was covering the pain of being so big. I hated it, but wouldn't admit it. When I realized that I needed to FEEL GOOD about myself, not feel good about a size or an expectation of everyone else was when I knew I had this thing under MY control!
Check out my

Daily Menu Food Log for a quick glance at what I'm eating to get where I'm at, which is a healthier & therefore thinner ME!
Don't forget to check out my newest
Book Blog
, where I give book reviews on recent books I've read. If you're a reader you'll want to check this out!
WE CAN DO THIS, TOGETHER
ONE DAY AT A TIME!

Like this article? Twit it to your followers!
Who Else Helps me get healthy?
These are just a few of the people online that inspire me....
1.
Check out the Fab Fatties Challenge #3 while you are there!
2.
Joe Gigantino - Fitness Trainer
This is the guy that really set me on the path to physical fitness
3.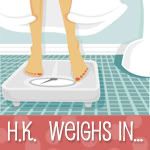 4.
BWJEN
5

.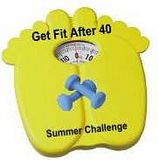 5

.
6.Sean Anderson the formerly 500lb man!
Diary of A Winning Loser
*Note I am not affiliated nor endorsed by Weight Watchers® at all, in any way. I highly recommend their program and cannot say enough GOOD about it, but I also have decided that they were my "stepping stone" to making a change in my lifestyle. Any mention of Weight Watchers®, their program or their term of "points®" does not mean they have approved, seen, or endorsed anything on my blogs.
Also, if at any time Points® are mentioned it is always with the assumption that you will analyze the recipes, foods, ingredients and figure the points out specifically for your consumption of any product, as ingredients may vary by brand, size, etc.