I
t's time to stop ordering that high point, high cal, high fat version of "Chinese" food. Here's the answer to Chinese Takeout, cheaper & better for you! So easy!
D
on't let the amount of ingredients scare you. Most are "spices" and not a whole lot of prep is involved! Honest, it's a very fast & easy meal.
N
ote the serving suggestions. The original recipe was for the 3pt version but I find that to be fairly unrealistic as a serving size and as possible points. You can shove a lot of chicken into a cup, with or without sauce, so it tends to allow for "cheating" yourself into serving sizes that are too large for the points. My way of counting is for each ounce of chicken it is 1 pt, the sauce weighs in with the chicken, accommodating for points also. To me, this is a more realistic view. Also, it would come out to serving 4 people, much more realistic.
General Tso's chicken
(6)
Serves 4


3/4 c chicken broth, Fat Free reduced-sodium
2 TBS cornstarch*
2 TBS Splenda
2 TBS low-sodium soy sauce
1/2 tsp ground ginger
1 TBS white wine vinegar
2 medium scallions, chopped
2 medium garlic cloves, minced
1/2 tsp red pepper flakes, or 1 dried chili pepper, minced
1 lb uncooked boneless, skinless chicken breast, cut into 2-inch pieces
2 c cooked brown rice, kept hot
In a medium bowl, whisk together broth, cornstarch, sugar, soy sauce, vinegar and ginger; set aside.
Heat a wok or large skillet over medium-high heat. Spray generously with non-stick spray. Add scallions, garlic and pepper and cook 2 minutes. Add chicken and cook until browned all over, about 5 minutes.
Add reserved sauce and simmer until sauce thickens and chicken is cooked through, about 3 minutes.
Serve chicken and sauce over rice.
Yields about 1 cup of chicken and sauce and 1/2 cup of rice per serving for (3) count Or as below:
4 oz. of skinless boneless Chicken breast or Tenders = 4
1/2 cup of Prepared Instant Brown Rice = 2
*Using cornstarch as a thickener is a great way to thicken without adding points!


Don't forget to check out my newest
Book Blog
, where I give book reviews on recent books I've read. If you're a reader you'll want to check this out!
WE CAN DO THIS, TOGETHER
ONE DAY AT A TIME!

Like this article? Twit it to your followers!
Who Else Helps me get healthy?
These are just a few....
1.
2.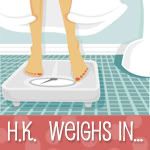 3.
BWJEN
4

.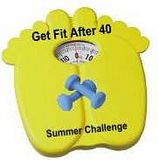 5

.
6.Sean Anderson the formerly 500lb man!
Diary of A Winning Loser