L
ong ago, one of the "crazes" to hit the malls was a store/restaurant that sold "Smashed Potatoes". They were basically baked potatoes, loaded up with TONS of different things (most of them loaded with fat & calories).
M
y all time fave was the Smashed Steak Potato, a baked potato loaded to the hilt with caramelized onions, sour cream, cheddar cheese & steak. You could add anything else you wanted or could think of if you wanted, to any of the already "created" flavors. The place was awesome and fairly inexpensive considering what you got. The considered the potato "Smashed" because they took a baked potato & smashed it on a grill (of course with tons of butter/oil) then flipped that onto a plate & loaded it up with everything imaginable in thousands of different creative ways!
O
f course, I loved it and shortly after it closed!
B
UT fear not, I instantly figured out (not that it was hard) how to re-create these awesome babies at home and my kids thought I was the reigning queen of the kitchen! We had smashed steak potatoes nearly once a week, for months (at a fraction of the cost it was to take 3 kids and myself there).
A
s time went on the newness and intrigue of the recipe wore off and it became a sort of lost creation. Once in a while I'd pull it out and make "Smashed Potatoes" for the kids and we always loved it, but I no longer wore out it's welcome with a weekly dinner consisting of "Smashed Steak Potatoes" as our entree.
W
hat I love most about re-creating my "old" recipe is that it tastes basically the same, with not even a fraction of the calories and is literally a quick and single platter entree that fills you up well!
Smashed Steak Potatoes
(6)
Serves 1
Ingredients:
1 baked potato
(I purchase the already washed/wrapped, ready to micro in 8 minute potatoes for $1.50 each... saves time & well worth the cost)
2 Tbsp. Fat Free Sour Cream
1/4 Cup Fat Free Shredded Cheddar Cheese
2 oz. 98% Fat Free Shaved Steak
(I buy mine from a restaurant supplier but you can buy 98%-99% FF Shaved Beef in your
deli)
2 Tbsp. Worces
tershire sauce
1 tsp. A-1
1 tsp. onion powder
1/4 tsp. garlic salt
1/4 tsp. freshly ground black pepper
1/4 sweet onion, sliced
(I prefer Vidalia while I can get them)
Place baked potato in microwave or oven if you prefer and cook completely.


While potato is cooking, begin to caramelize onions in non-stick fry pan. You do not need to put any oil in the pan as long as you use a non-stick pan & constantly keep moving the onions so they don't burn, over a medium heat. Once onions are cooked thoroughly, place beef, Worcestershire sauce, onion powder, garlic salt & ground pepper in fry pan. Cook until heated through.


By the time the potato is done cooking, the beef & onions will be hot & ready to place on top of potato.


Move the fry pan ingredients to one side and cut open the potato, squish potato down into fry pan, skin side up. This allows the potato to soak up all the delicious flavors of the cooking meat & onions.


Take potato out, place on platter. Top with all ingredients in fry pan. Top with shredded cheddar, A-1 Sauce & sour cream. Salt & pepper to taste.
I
use this as a main course. It is amazingly delicious and so very filling. You can add or take out ingredients as you please. Sometimes I'll add red & green sweet peppers to make a "philly steak" style smashed potato. Sometimes I replace the steak with chicken & top with some salsa. Anything you can think of as a topping can be put in, just remember to change the points value for each item.
A
nd of course, since the total "meal" points are so low you can add a little dessert (bowl of FF Frozen yogurt or something special) and not even begin to feel guilty with the entire dinner!
Don't forget to check out my newest
Book Blog
, where I give book reviews on recent books I've read. If you're a reader you'll want to check this out!
WE CAN DO THIS, TOGETHER
ONE DAY AT A TIME!

Like this article? Twit it to your followers!
Who Else Helps me get healthy?
These are just a few....
1.
2.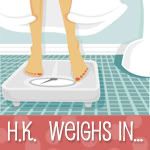 3.
BWJEN
4.
FabFatties
5

.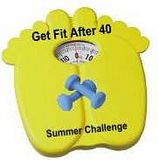 6

.
7.Sean Anderson the formerly 500lb man!
Diary of A Winning Loser