I
must confess, I am a cheese addict! It's been the hardest part of getting healthier & I often do falter to the whims & desires of REAL, full of fat, cheese.
What I love about this recipe is that Asiago cheese is pungent enough to use just a small amount but give tons of flavor. Not to mention Asiago is one of my absolute favorite cheeses!
Asiago, Potato, and Bacon Gratin
(5)
Serves 6
1 1/2 pounds peeled Yukon gold potatoes, cut into 1/4-inch-thick slices
1 teaspoon salt, divided
Cooking spray
2 tablespoons minced shallots
1/4 cup all-purpose flour
2 cups Skim milk, divided (1 1/2 cups & 1/2 cup)
3/4 cup (3 ounces) grated Asiago cheese
1/4 cup chopped fresh chives
1/4 teaspoon freshly ground black pepper
4 bacon slices, cooked and crumbled (I use center cut bacon)
1/4 cup (1 ounce) grated fresh Parmesan cheese (I use canned, reduced fat Parm)
Preheat oven to 350°.
Place potatoes in a large saucepan; cover with water. Bring to a boil. Reduce heat; simmer 5 minutes or until potatoes are almost tender. Drain. Sprinkle potatoes evenly with 1/4 teaspoon salt; set aside and keep warm.
Heat a medium saucepan coated with cooking spray over medium heat. Add shallots; cook 2 minutes or until tender, stirring frequently. Lightly spoon flour into a dry measuring cup; level with a knife. Sprinkle flour over shallots. Gradually add 1/2 cup milk, stirring with a whisk until well blended. Gradually add remaining 1 1/2 cups milk, stirring with a whisk. Cook over medium heat 9 minutes or until thick, stirring frequently. Remove from heat; stir in 3/4 teaspoon salt, Asiago, chives, pepper, and bacon.
Arrange half of potato slices in an 8-inch square baking dish coated with cooking spray. Pour half of cheese sauce over potato slices. Top with remaining potato slices and cheese sauce; sprinkle with Parmesan. Bake at 350° for 35 minutes or until cheese is bubbly and lightly browned.
CALORIES 250 FAT 8.2g FIBER 2.3g
Don't forget to check out my newest
Book Blog
, where I give book reviews on recent books I've read. If you're a reader you'll want to check this out!
WE CAN DO THIS, TOGETHER
ONE DAY AT A TIME!

Like this article? Twit it to your followers!
Who Else Helps me get healthy?
1.
2.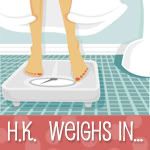 3.
BWJEN
4.
FabFatties
5.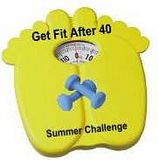 6.
7.Sean Anderson the formerly 500lb man!
Diary of A Winning Loser