T
oday was a rainy, dreary day in Erie so I decided to do a little creative indoor grilling for the son and I for lunch. He was thrilled with the results (I always love when I make it healthy & he doesn't say "This is tasteless like healthy food") & I even re-created the chicken itself for my older daughter's dinner (she works odd shifts) in sandwich form!
Grilled Cajun Ranch Chicken Salad (5)
Salad Mix
*as much as u want 2 make your salad as big as u want
(0)
2 oz. chicken breast (boneless, skinless) (2)
1/2 tsp. Cajun Seasoning
(I buy generic brands but use your fave)
(0)
1/2 tsp. Ranch Seasoning
(I get mine in at GFS but you can also use Ranch dry mix)
(0)
1 oz. Fat Free Feta Cheese (1)
1 oz. Fat Free Cheddar - shredded (1)
7 Special K Crackers
(I use roasted tomato usually)
- crumbled (1)
Fat Free Italian Dressing
(I use Wegman's FF Italian Parmesan)
(0)
F
irst place chicken breast on indoor grill. Season with ranch seasoning & cajun seasoning. Grill until juices run clear. Larger breasts can be used if you're really hungry, I tend to buy smaller half breasts, which run about 2-2 1/2 oz. total.
I
n the mean time mix up the rest of ingredients in your bowl. You can add tomatoes, onions, green peppers, etc. without adding any points so go for it! The "Special K" Crackers I use in place of croutons, they add so much more flavor & are only 1 pt, 2 if you put 17 in the salad.
C
ut chicken into medium sized chunks. Place on top of salad fixins!
T
op with dressing (FF Ranch is also great with this)
Total time to make: 12 Minutes
Serves 1 (easily doubled, tripled, etc. to feed the family)
Who Else Helps me get healthy?
1.
2.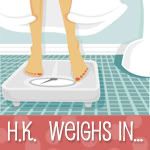 3.