T
his weekend served as a

HUGE

reminder to me that I truly have changed my

LIFE

and not just been "dieting". I hate that word. LOL

M

y absolute BFF from college came for an extended long weekend... she came up
on Friday with her daughter & picked me up to take me off to Pittsburgh! I love that town! We spent the day at the Andy Warhol Museum. What an amaz
ing place & amazing man. I can't get over how much he's impacted our world! If you get a chance, see it!



W

hat I did end up doing was not paying such close a
ttention to what I ate. We started out Friday with a "must have" if you visit P

i

t

t

s

b

u

r

g

h

... a Primanti Bros. sandwich! Yeah, loaded with fries & s
law on a big slice of Italian bread. While I'm sure it's far from "low" in points/calories/fat it's not truly the worse thing on earth I could ever eat, but it was the start of kind of ignoring my normal choices. We hit the Primanti Bros. on the Strip, a first for me! Of course it was amazing!

S

aturday we started out well, and I pretty much ended up having a pretty "normal" day for me. I loved it because I finally got to show my friend that I truly have changed and for the better. I have begun a whole new healthy lifestyle. I was so proud because not only did I show that I know what I'm doing (well along with still learning lol),
but it also seemed to inspire her, which is something I hope to do with every person I touch in this world. It's not about weight, it's about health. I could care less if someone I love weighs 800 pounds or 80, if they're healthy and eating healthy... keeping them in my life for longer. It's only obvious that "healthy" also ends up with being a "healthy" weight too... but that's a "side effect" if you ask me.



S

o, anyways, Saturday we started the day with some chocolate peanut butter oatmeal. That breakfast always sticks to your ribs. I can't recall what else we at that day but it
was mostly all good for us foods, new things I've found that I wanted to share with Terri & her daughter. BTW they liked the "Better 'n Peanut Butter" in the oatmeal! I'm personally in love with it myself! We had some Bruschetta Boca Burgers

(N.I. 70 cal/1.5g fat/3.5g fiber)

(I am NOT a Boca burger fan... detest anything that pretends to be a "meat" but in this case it is amazing in flavor & when put on an Arnold's Sandwich Thin with some fat free Ranch...ooooh my!).

F

or dinner, the Bruschetta Burgers with fresh corn on the cob, some
chopped up cauliflower & cucumbers with fat free ranch dip - topped off with a handful of light Lays chips. Oddly enough it was a total vegetarian meal, not on purpose, and unbelievably awesome! It also was very much a typical meal for me & a great way to share some new products I've found to help make my "healthy lifestyle" a success!



W

e even went to the gym and I shared my "work out" ideas with her, showing her that the workout does NOT have to be a terrible, hard, thing. In 90+ temps it was a welcome to hit that pool & walk together, not to mention we got to chit chat while we "worked out". What more could you ask for?



B

ut alas, Sunday we misbehaved a bit. After starting the day with my Naked (always a plus) and of course introducing my friend & her daughter to the glories of sweet, sweet Naked earlier in the weekend (Friday actually LOL). We did end up getting Krispy Kreme donuts, which was NOT a good move. Needless to say, I not only misbehaved in eating more than I should (1 is more than I ever should) but add to that a midnight run "South of the Border" aka to Taco Bell! Do you know how long it's been since I've eaten food that greasy & disgusting? LOL My stomach does!



B

y Sunday night, after our great time at the fireworks my stomach made sure I knew that I had made the wrong choices. Sick to my stomach and eventually with issues better left unmentioned here in blog world I knew that my body was really angry at what I had done. I had resorted, for about a 24 hour period, back to the way I used to eat every day of my life and it wasn't impressed.



M

onday, we chilled a bit before they left but let me tell you my stomach did not chill at all. Okay, so I'm a little slow but it hit me finally... I had made these changes in my life long before that day but realized that I honestly had MADE them without realizing it. At that point I just sat back, sore belly and all, and went

"WOW, I'm so proud of you!"

because it showed me my changes were

NOT

a "DIET"..... they were a lifestyle change and I wasn't happy with "going back" to the old lifestyle!

Check out my

Daily Menu Food Log for a quick glance at what I'm eating to get where I'm at, which is a healthier & therefore thinner ME!
Don't forget to check out my newest
Book Blog
, where I give book reviews on recent books I've read. If you're a reader you'll want to check this out!
WE CAN DO THIS, TOGETHER
ONE DAY AT A TIME!

Like this article? Twit it to your followers!
Who Else Helps me get healthy?
These are just a few of the people online that inspire me....
1.
Check out the Fab Fatties Challenge #3 while you are there!
2.
Joe Gigantino - Fitness Trainer
This is the guy that really set me on the path to physical fitness
3.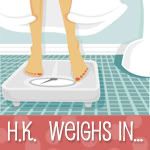 4.
BWJEN
5

.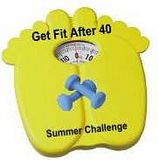 5

.
6.Sean Anderson the formerly 500lb man!
Diary of A Winning Loser
*Note I am not affiliated nor endorsed by Weight Watchers® at all, in any way. I highly recommend their program and cannot say enough GOOD about it, but I also have decided that they were my "stepping stone" to making a change in my lifestyle. Any mention of Weight Watchers®, their program or their term of "points®" does not mean they have approved, seen, or endorsed anything on my blogs.
Also, if at any time Points® are mentioned it is always with the assumption that you will analyze the recipes, foods, ingredients and figure the points out specifically for your consumption of any product, as ingredients may vary by brand, size, etc.