W
eekends provide an array of "What's for dinner" issues at my house as I have 3 teens with 3 different schedules. I will often use my crockpot for situations like this. Here's one of my favorite "go to" recipes.
I
cannot take responsibility for the recipe itself. I acquired it a few years ago, probably from a friend or an online internet group who shares recipes.
W
hat I love most is the "comfort food" style of the soup, the ease of making it and the nice low point value if you're doing "Weight Watchers"!
Slow-Cooker Cheeseburger Soup (5)
NI: Cals: 250 Fat: 3 Fiber: 1
Servings: 8
Ingredients
2 spray(s) cooking spray
1 medium garlic clove(s), minced
1 medium onion(s), chopped
1 medium stalk(s) celery, chopped
(I omit this)
1 pound(s) uncooked lean ground beef
(with 7% fat) (I use 5% fat content, which lowers the points)
2 tbsp all-purpose flour
3 cup(s) canned chicken broth, divided
1 cup(s) low-fat evaporated milk
8 oz Kraft Velveeta Light Reduced-Fat Pasteurized Processed Cheese Product, or similar product, cubed
1/2 tsp paprika
1/4 tsp table salt
1/8 tsp black pepper
24 item(s) baked low-fat tortilla chips, crumbled
Instructions
Coat a large nonstick skillet with cooking spray and heat over medium-high heat for about 30 seconds. Add garlic, onion and celery to skillet; cook, stirring frequently, until vegetables are tender, about 5 to 10 minutes. Coat a 3-quart or larger slow cooker with cooking spray; spoon in vegetables.
Place same skillet over medium-high heat and brown beef, breaking up meat with a wooden spoon as it cooks, about 5 to 6 minutes; pour off any liquid and add meat to slow cooker.
In a small cup, combine flour and 1/2 cup of broth; stir until lump-free. Pour flour mixture into same skillet; add remaining 2 1/2 cups of broth. Bring to a simmer, scraping up any browned bits in bottom of skillet with a wooden spoon, and then pour into slow cooker; stir in evaporated milk, cheese, paprika, salt and pepper. Cover slow cooker and cook on low setting for 2 hours. Serve soup topped with crumbled chips.
Yields about 3/4 cup of soup and 3 tablespoons of chips per serving.
Notes
If the soup cooks too long, the cheese could separate. If that happens, combine 1 tablespoon of all-purpose flour and 1/4 cup of soup in a cup; stir to a paste. Stir flour mixture back into soup in slow cooker; cover and cook on low setting for 10 to 15 minutes
I also sometimes add broccoli to the soup, creating a bit of a broccoli/cheese style soup. I will also sometimes replace the "chips" with homemade croutons, created with diet 1pt. bread, toasted with herbs in the broiler. This makes it easier to count the points as you know how many croutons you cut from each piece!
Who Else Helps me get healthy?
1.
2.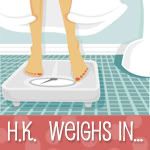 3.